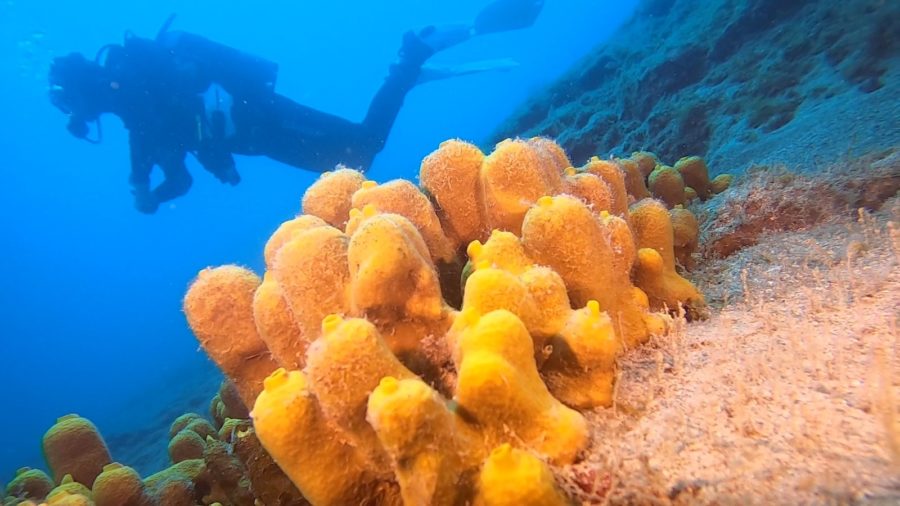 Are you thinking about a diving vacation in Lanzarote? Welcome to Lanzarote!
We will make sure they are perfect. Our centre is located in Puerto del Carmen, the centre of diving.
We make daily trips to the most outstanding points of the island for certified divers as well as PADI diving courses.
What are you looking for?
Diving Courses
For all levels
All diving courses at Titan Blue Divers. From a first dive to your Divemaster certification.
Guided diving
For certified divers
We guide your dives to show you the best dive sites on the island.

You can also take advantage of our dive packages.
Diving Zones
Find what you are looking for
Discover all the dive sites in Lanzarote and choose with us your personalised dive programme.
Wrecks of Puerto del Carmen

Wrecks of the Barranco del Quíquere ravine

Safe and Responsible Diving in Lanzarote
Starting from the respect for the environment we visit and complying with safety standards, we will add our special touch to make it fun and unforgettable.
The groups we do diving in Lanzarote are small to guarantee the necessary attention to make the experience as rewarding and safe as possible.
Diving Center in Lanzarote
The dive centre in Lanzarote will be opened in 2021. We have chosen the best option when it comes to the quality of the air we breathe in our cylinders when it comes to choosing our compressor. Regulators, wetsuits, masks, fins, tanks .... All brand new !!!!!
Our team is made up of deep sea lovers. We love what we do. And we try to pass it on to our divers. We are here for you to enjoy Lanzarote in and out of the water. If you don't know the island we will be happy to help you with your sightseeing.
A diving enthusiast in Lanzarote, after starting in Malta with the OWD with Svetlana, he has not stopped doing courses until he became an instructor.
On the island of Koh Tao he did his Divemaster and continued his training in Spain. Since then he has worked as a freelance instructor and has managed to unite a large family of divers who today are still together and enjoying the underwater world.
With Luis, safe diving and fun go hand in hand. Learning while having fun is one of his goals.
Our Divemaster since she took the OWD course in Malta in 2014 and the Advanced course in the Red Sea has not stopped diving and travelling around the world in search of new destinations to dive and enjoy the underwater world.
He has changed his life in the big city and his work in the office to dedicate himself to what he loves the most which is diving in Lanzarote.
A passionate lover of the coasts of Lanzarote where she will show you the most emblematic corners of the islands.
Great swimmers, always ready to take a dip in any kind of water. Sometimes a little grumpy but there is no bark that a little piece of sausage does not cure. They do not hesitate for a second to dive in Lanzarote.
How do you dive in Lanzarote?
We were captivated by the climate, the seabed and the friendliness of the people. The visibility is very good and the water temperature ranges between 18º and 24º with the coldest months being February and March and the warmest from June to October, so we can dive in Lanzarote all year round.
What will we find while diving?
When diving in Lanzarote we will have impressive visibility, an enviable climate practically all year round, barracudas, groupers, seahorses, angel sharks, rays ..... and if we are lucky we will be able to see pelagics in the blue, sunfish, dolphins, whales...
Why is diving in Lanzarote so special?
You will feel like you are in a new world, entering shipwrecks sunk centuries ago, as well as caves, grottos and cliffs formed by volcanic eruptions that occurred millions of years ago.
And don't be surprised if you also come across volcanic tubes, deep coral forests, volcanic reefs with ecosystems teeming with life or if you end up diving with sharks. In Lanzarote the adventures are endless!
But the surprises do not end here. Also when diving in Lanzarote you will find more than 100 dive sites that tempt you to come back again and again. The best part is that the weather will never be a problem, as the water temperature is always perfect.
In summer it will be around 24ºC, while in winter it barely drops to 20ºC, so you could spend the whole year diving if you feel like it.
And, in case you are looking for allies for your underwater excursion, at Titan Blue Divers we will not only accompany you, but we will also guide you so that your trip is risk free.
Even if you want to do a diving course in Lanzarote diving course in LanzaroteWe have instructors of the highest level and a complete program of courses endorsed by the international certifier PADI.
So tell us, do you say YES to adventure?